The 360 Organizer® by Lazy Lee®
Austin-Morgan Closets is the only Phoenix, Arizona closet company that offers the 360 Closet Organizer.  The 360 Organizers are innovative custom organization solutions that provide more storage capabilities than traditional closet organizers.  You will be able to store more in the same square footage.  The 360 Closet Organizer easily and quietly spins manually to provide 360 degrees of rotation.  The 360 Organizer® by Lazy Lee® is available in four configurations and over 37 colors. The shelves are also adjustable to accommodate all types of unique storage. The 360 Organizer® is perfect for closets, pantries, wine storage and so much more!
FREESTANDING AND BUILT-IN MODELS AVAILABLE
The 360 freestanding model can be integrated into a full closet system or as standalone storage. The 360 Built-In model is designed to spin within a cabinet which can easily be attached and integrated into a larger custom closet system.  Standard units are  89″ or 91.5″ high depending on the model.
The Shoe Spinner and the Valet fit into a 40″ x 40″ corner. The Double Hang model requires a 42″ x 42″ space. The 360 Organizer® Pantry is smaller to fit with standard kitchen cabinetry and requires either a 32-3/4″ x 32-3/4″ space or a 31-1/2″ x 26″ space depending on if you choose the corner or wall model. Custom configurations are also available.  All 360 Closet Organizers can be built into a new closet, pantry or other system or integrated into an existing organization system.
---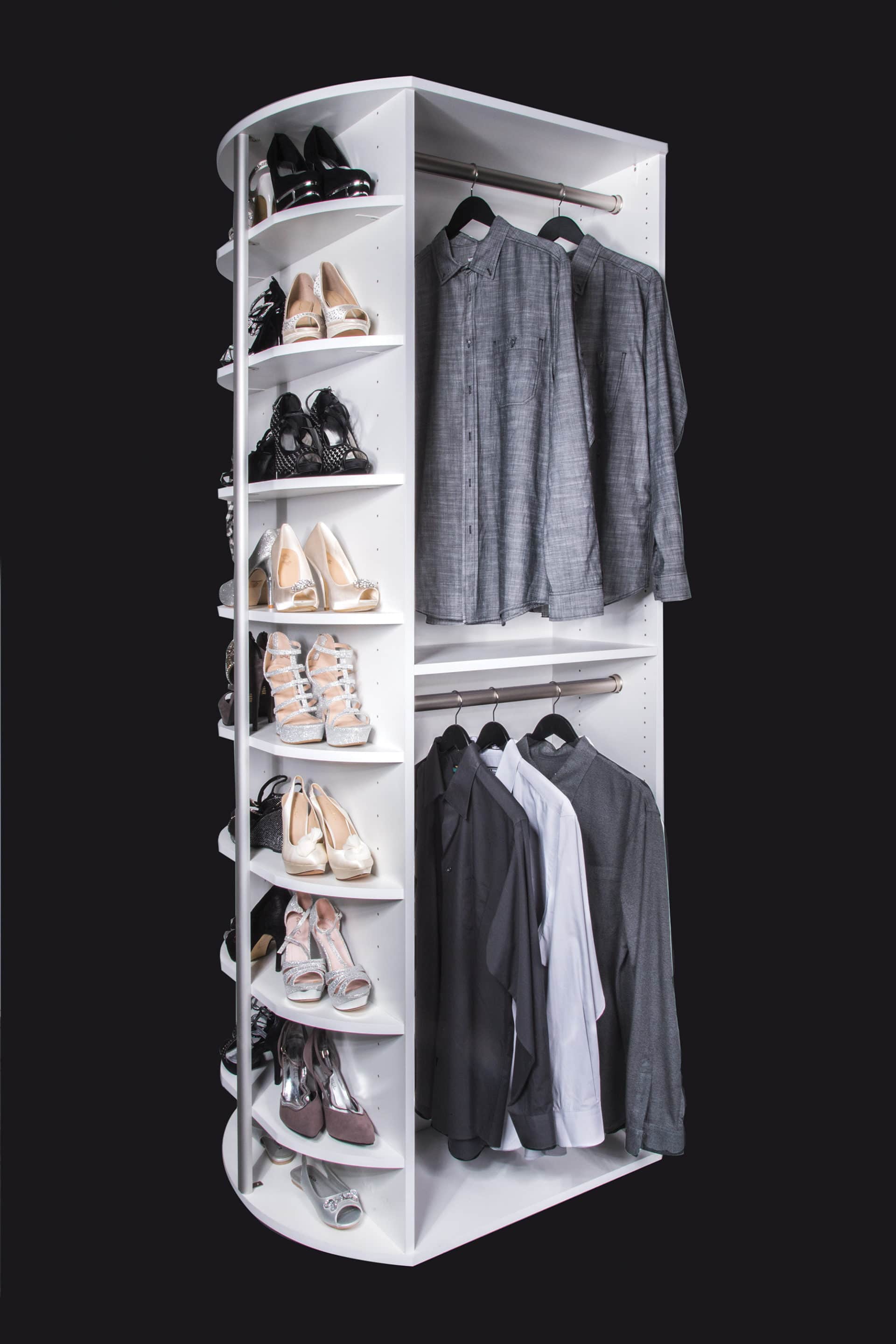 Standard Double Hang Configuration
The Double Hang consists of four 24″ hanging rods on the two main sides with 18 side shelves to hold shoes or other smaller items
Adjustable shelves are 28-3/8″W x 6-1/4″D (18 shelves)
Can hold up to eight feet of hanging items and approximately 36 pairs of shoes
Uses only 42 square inches of floor space
Available as a freestanding unit only
---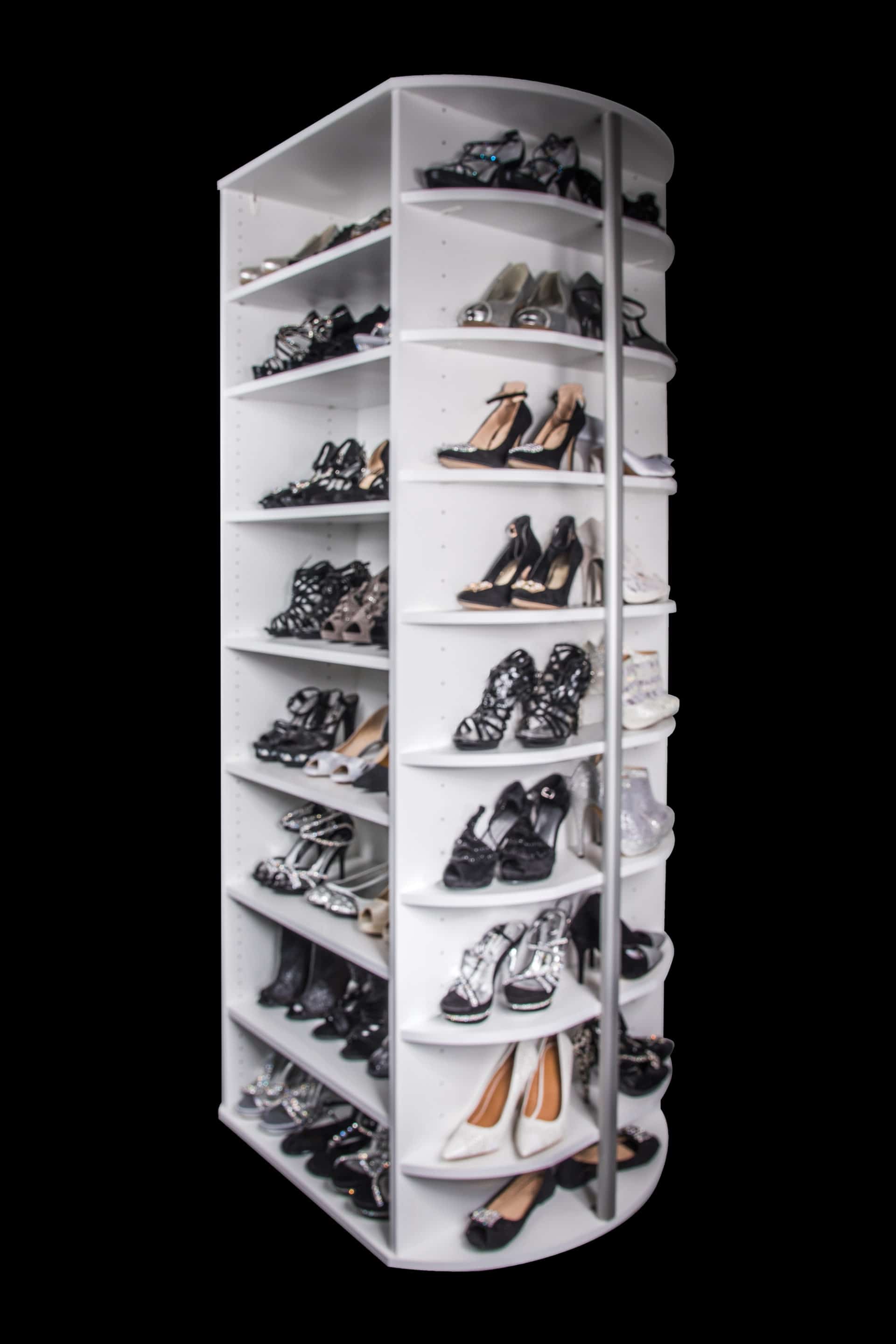 Standard Shoe Spinner Configuration
The Shoe Spinner consists of all adjustable shelving to maximize the storage of shoes, purses and folded clothing items
Adjustable shelves are 24″W x 14″D (14 shelves) and 28-3/8″W x 6-1/4″D (18 shelves)
Uses only 40 square inches of floor space
Available as a freestanding or built-in unit
---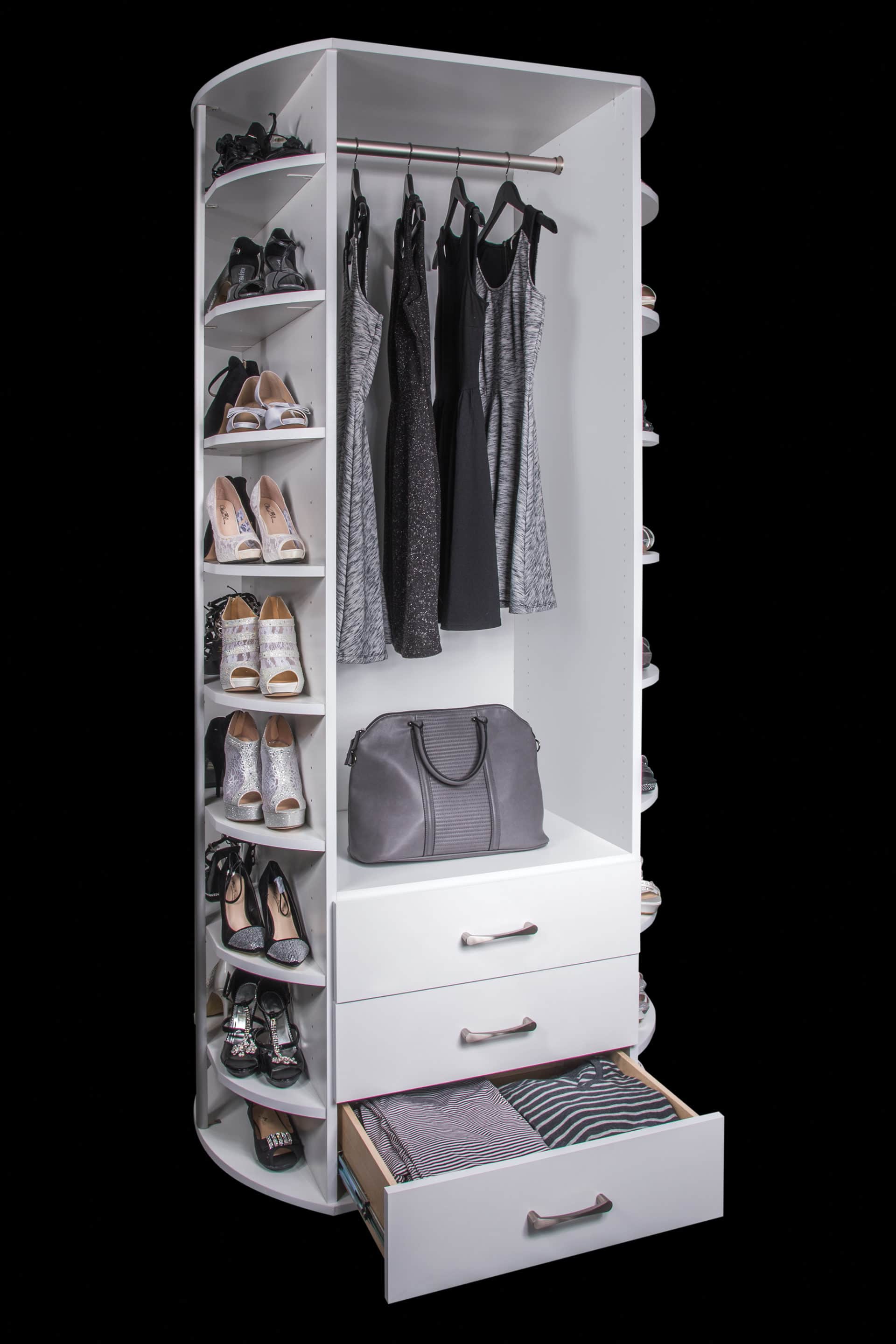 Standard Valet Configuration
The Valet allows for a combination of flexible storage options; long hanging, drawers and shelves to store a wide range of clothing items, shoes and purses
Adjustable shelves are 24″W x 5-7/8″D (7 shelves) and 28-3/8″W x 6-1/4″D (18 shelves)
Drawers are 22″ deep x 3″ – 7″ high
Uses only 40 square inches of floor space
Available as a freestanding or built-in unit
---
Standard Pantry Configuration
The 360 Pantry Spinner is built on a smaller footprint and is the perfect storage solution for spices, bottles, canned goods or larger items like cases of beverages
Dimensions with the cabinet are 32-3/4″W x 32-3/4″L x 91 1/2″H for the corner model or 31-1/2″W x 26″L x 91 1/2″H for the wall model
The main shelves are 14″D x 18″W on one side and 3 7/8″D x 18″W on the other — the shallower shelves are perfect for single bottles, keeping everything visible so that nothing gets lost in the back
Side shelves measure 3.5″D x 18″W — great for spices and other small items
Every shelf includes a chrome fence to prevent items from falling off
Available as a built-in unit for corner or wall installation
Available in all our laminate colors
---
A UNIQUE CLOSET ORGANIZING TOOL THAT PROVIDES MAXIMUM STORAGE  IN A SMALL FOOTPRINT