New Home Buyers Want Custom Closets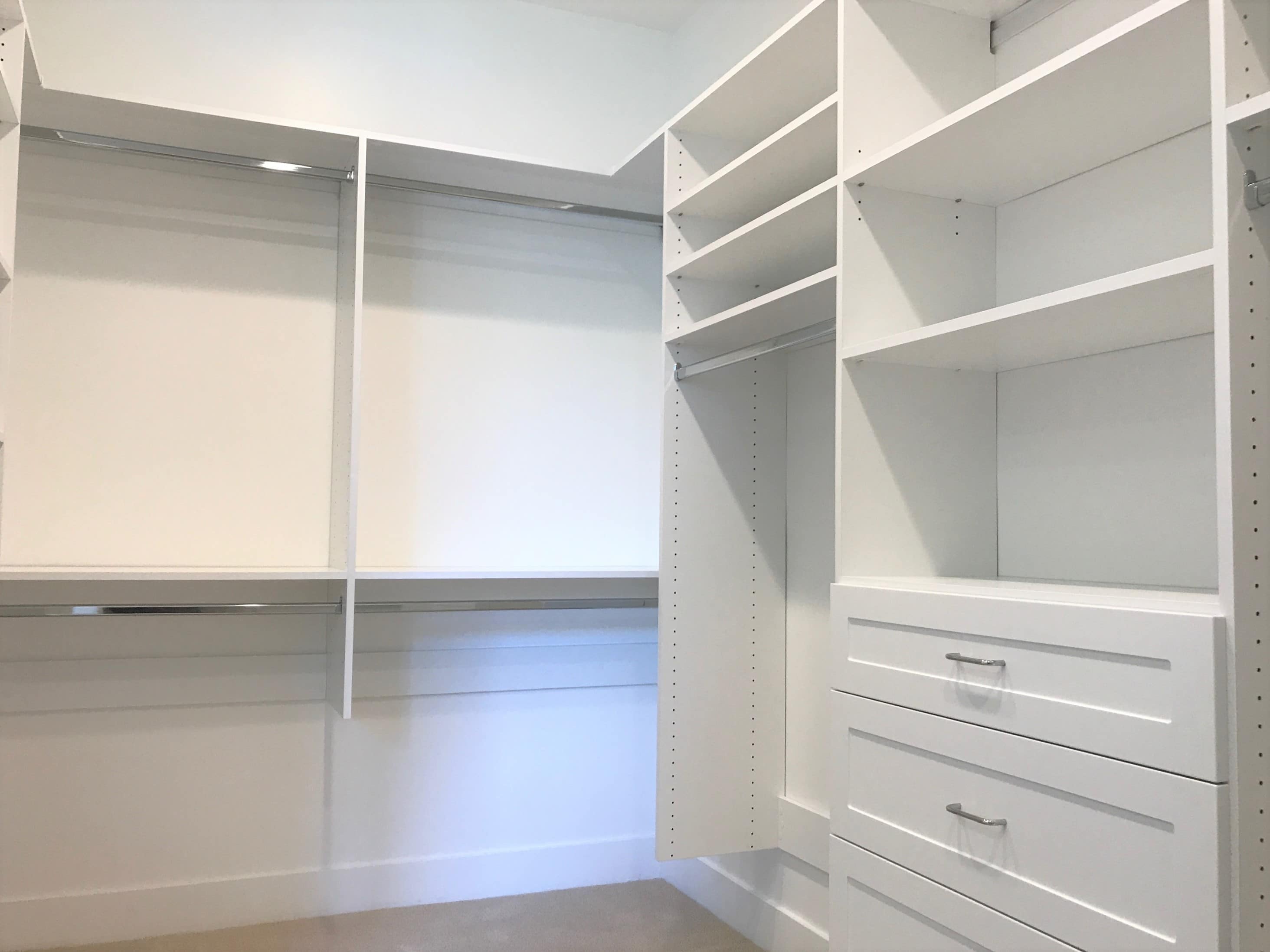 For today's new home buyers, custom closets are a priority.  A custom closet is an amenity that will never go out of style.  It will add value in the future, while enhancing life in your home today.  Custom closets are a surprisingly good value as well.  If you compare them with other amenities which can be major expenses, custom closets are very reasonably priced – especially given their impact on your daily life.
It is very common for us to schedule a design consultation prior to a client closing on their new home.  They want to have the design completed and their new custom closet system installed as soon as they close on their new home.  We find that most people building a new home opt out of having the builder install the basic shelving and hanging rods.  They want a custom closet designed and installed addressing their specific needs and wants.  This saves the time and cost of having the builder system removed, walls patched and repainted, etc. Buyers are making smart decisions and not settling for a closet system that will not maximize storage space.
According to Inman news: Spacious walk-in closets in every bedroom are a huge selling point. Buyers love over-sized closet space, especially with built-in organization.
It is always chaotic to move into a new home, but the last thing you want to face is lack of space for your belongings.  It makes the move more frustrating and dramatically increases the amount of time it takes to get settled in to your new space. A custom organized closet, creates square footage in your home and will generally hold double the contents of a standard closet.  More people are seeing the value in custom closets and how it can transform their lives and increase the storage capacity of the space they have.
According to HGTV: Adequate storage space is essential, and well-organized closets are extremely valuable.  The master suite and kitchen are the most important parts of the house, so invest in nice closets in these areas. 
Custom Closets Simplify Home Buyers Lives
Home buyers want to simplify their lives, reduce clutter and want their home organized.  This includes a more minimalist aesthetic with less furniture in bedrooms, therefore the need for drawers in their custom closet.  Some of the upgraded features that home buyers are looking for include adjustable shoe walls, built-in hampers, belt racks, tie racks and valet rods.  Find all the closet accessories you need to personalize your custom closet system here and browse our custom closet images to find ideas to incorporate in your closet design.
The following video is a custom closet completed for a Cave Creek client that had a new home built with one of the nation's largest homebuilders.  It was so satisfying to hear the client's response to their custom closet–"this is the nicest closet I've ever had" and "it's more beautiful than I expected."
Austin-Morgan Closets is the Phoenix area's leading creator of custom closet, entertainment center, office and pantry storage spaces. We create unique solutions with your space in mind. Let us help you personalize your new home with a custom designed closet expertly crafted for you. Connect with us  today to learn more!
Schedule your Free Design Consultation Today!